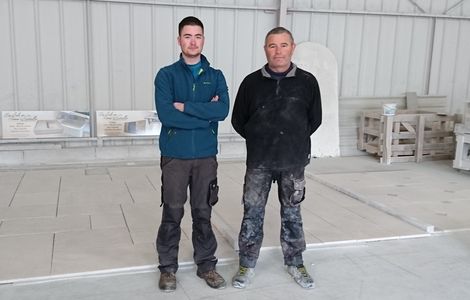 Located in France near Poitiers (86), our workshop "Sols Pierre et Marbre" created in 1994 is specialized in the handcrafting of natural stone slabs to create some products like sinks, shower trays, stair treads, stone veneers, roofing for walls, indoor and outdoor tables, etc.
We produce several types of cabochon stone square or round with shuttles, opus-Roman and large stripes models of 100x100cm / 120x60cm.
Our stones are intended for heritage restoration as well as modern homes and timber frame dwellings. Our products are worked and aged by hand in our Cissé workshop (86).
At any time, you can contact us by phone at +33 6 85 12 15 80 or +33 5 49 51 76 80, by email at marais-jacky@orange.fr or by using our contact form.
Feel free to provide us photos, map, etc. so that we can advise you at best on the choice of stone for your project.